What's New with SAP S/4HANA 1610
What new capabilities were released with SAP's third on-premise edition of their next-generation ERP business suite and how does it affect your organization?
That's precisely what you'll discover during this grounded overview that will identify and cover the latest innovations included in SAP S/4HANA 1610. This webcast replay will demonstrate how to properly assess the value of S/4 HANA 1610's new innovations in comparison to previous editions and help you determine the best course of action for your organization.
View this webcast to gain intel on SAP S/4HANA 1610's new capabilities, including:
Key Innovations in SAP S/4 HANA 1610
SAP S/4 HANA 1610 Value Map
The Updated Fiori 2.0 User Experience
Details of Select Key Innovations

Extended Warehouse Management (EWM)
Advanced ATP

If you you like to know more about this subject matter and you are more of a reader you would like to read our blog where we are answering Top 6 Questions About SAP BW/4HANA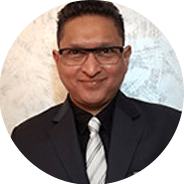 Niraj Pant
Practice Head, Delivery & SAP HANA, S/4HANA, Auritas

Niraj Pant has 25+ years of experience in the SAP ecosystem providing integrated solutions for several large enterprise clients. With a passion for procedural simplification and automation.