Offsetting SAP HANA Costs: The Path to Maximum ROI
How do you maximize ROI by offsetting SAP HANA costs?  You start by watching this webinar! Auritas Chief Technology Officer, Deepak Sood, and Dell's Director of Global SAP Alliances, Jonathan Byerly reveal strategies for you to get the most out of SAP HANA.
This webinar is loaded with information from beginning to end. Don't miss your chance to hear from the experts. During the previously recorded webinar, we go over the results from the survey questions asked in the registration form. See how you stack up against your peers! 
Some of the topics covered include:
HANA value proposition
Preparing your systems for HANA implementation
HANA cost management and ROI
Efficient use of HANA hardware
HANA & data archiving assessments
Data management techniques to address HANA cost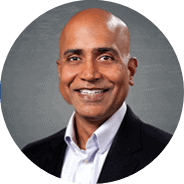 Deepak Sood
CTO

Deepak has been a data archiving expert for almost 20 years. He's presented on numerous topics at various SAP events and regularly contributes his expertise to enterprise business leaders.