SAP Business Intelligence & Auritas
Your company's data is a strategic, differentiating asset.
It is at the heart of the SAP systems that run your business

Auritas and SAP have worked together for years to help our clients infuse data with intelligence and elevate their capabilities in three key areas: data migration, data quality, and data governance including master data management.
 In recent years, we have seen an explosion in both the volume of data and the tools, technologies, and techniques deployed to add intelligence to said data. The overall goal of this growth is to enable organizations to leverage business intelligence to make informed and educated decisions.
Rising costs of acquiring and storing large volumes of data are fuelling this area alongside the speed at which this data can be processed and analyzed to provide business intelligence.
*Typical savings as seen throughout our customers, captured using real-time analytics.
We are the end-to-end SAP Digital Platform Partner.
Auritas delivers holistic solutions for every phase of your enterprise's information lifecycle. Our solutions include accelerating S/4HANA adoption by leveraging EIM, ILM, and ECM technologies. We also specialize in Data Volume Management, Data Privacy, Content Management, and Cloud Migration.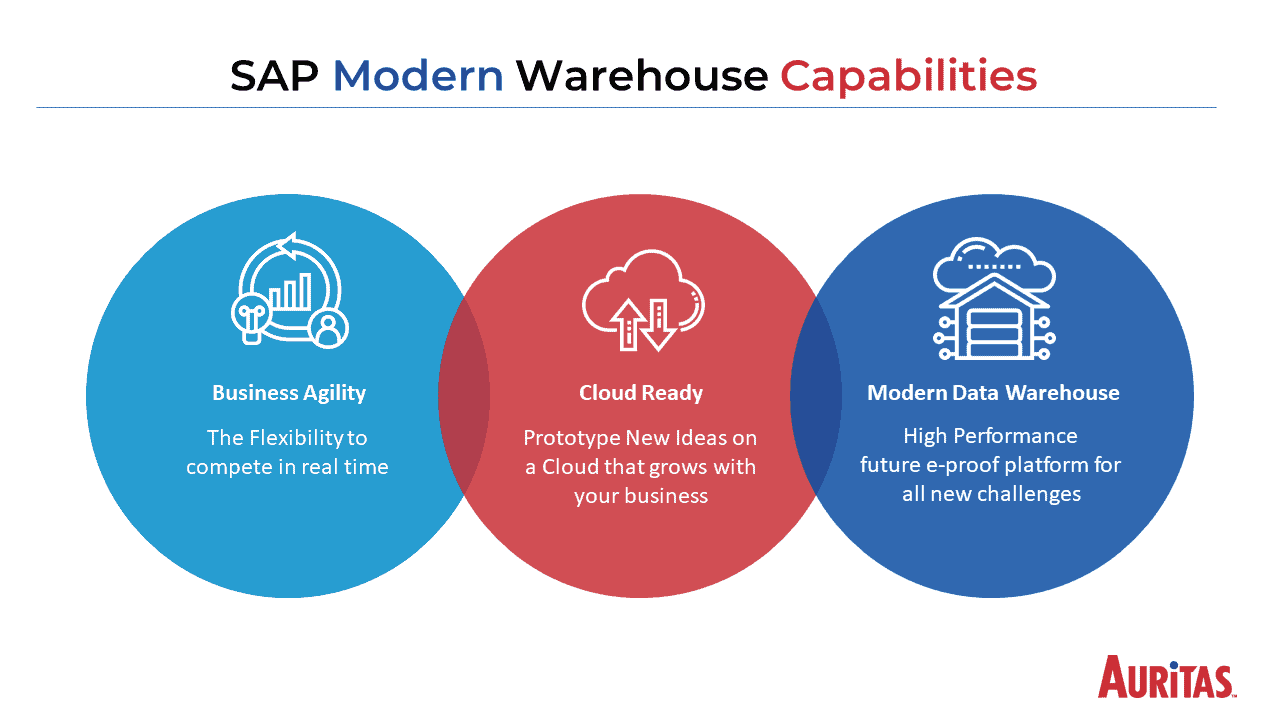 Enterprise Data Warehouse solutions – data from multiple sources can be consolidated harmonised and standardised to provide intelligent analysis. The data can be from enterprise business systems, but we have already seen the growth of data sources from non-enterprise data sources.
Data Warehouse Cloud solutions
SAP Data Warehouse Cloud is the first out-of-the-box enterprise-ready software-as-a-service (SaaS) data warehouse in the cloud. It unites all your data sources in one solution while  maintaining the security, trust, and semantic richness of your information. For more information, click here. For a sneak peek, watch  The Future of Data Warehousing. 
The SAP BusinessObjects platform is a flexible, scalable information infrastructure that helps you more easily discover and share insights for better business decisions. The integrated, unified infrastructure enables scalability from one to many tools and interfaces on-premise, in the cloud, or as a hybrid approach.
SAP Analytics Cloud unifies data from a wide variety of data sources (either on-premise or cloud) into single cloud solution. The benefit here is that there is a single point of security setting from within the tool.
Power BI is a Microsoft business analytics service. It provides interactive visualizations and business intelligence capabilities with an interface that Microsoft says is simple enough for end users to create reports and dashboards. Unify data from many sources to create interactive, immersive dashboards and reports that provide actionable insights and drive business results.
Bespoke services to help our clients' end-to-end successful BI engagement
Accelerating Digital Transformation through Legacy Decommissioning
Many Fortune 500 Companies Utilize more than one application to conduct their business activities and run their business ecosystem processes from both inside and outside of the organization.  
Cloud Migration Assesment
Auritas is happy to offer a complimentary cloud migration assessment for companies using ERP software that fit specific criteria. This cloud migration assessment will provide you insight into your planned migration and give you measurable goals for the coming year.
Self-Service Reporting with SAP BW4 HANA Greenfield Implementation for Retail
Customer is a strategic SAP user and has been using SAP applications such as SAP S/4 HANA, SAP Commerce Cloud, and SAP Cloud Platform to carry out their omnichannel retail operations.
Data Management Factory Assesment
Our complimentary data quality assessment is for companies using SAP ERP software that fit specific criteria. This data quality assessment will provide you insight into your master data and give you measurable goals for the coming year.
Frequently Asked Questions (FAQ)
Contact Us
or schedule a call with one of our experts.
Email: info@auritas.com
Phone: +1 407-834-8324 - Ex.133
Make an Appointment
for any inquiry