Achieving Excellence in Data Migration & Data Management
Many companies moving to Azure, AWS, and other Hyperscalers are finding their old legacy systems, applications, or databases are no longer being supported both on-prem or on the cloud.
For companies with legacy systems looking to move to S/4HANA, this migration headache poses more challenges than many can anticipate that directly affect ROI. Data quality & volume needs to be addressed as well as accessibility to data on aging systems.
For over 20 years Auritas has delivered successful SAP projects & developed tools that work seamlessly with SAP solutions to extend and enhance existing functionality.
Join us for this 30-minute live webcast, where our experts will discuss key migration principles, benefits, and how to achieve them within your own organization.
Presenters: Deepak Sood, CEO & David Boeckle, CSO
Date: Thursday , August 25th, 2022
Time: 2:00PM – 2:30PM EST / 11AM – 11:30AM PST

We will be using real-world use cases & results seen by actual Auritas & SAP customers. Major topics include:
Addressing Data Volume prior to S/4HANA to significantly lower hosting expenses

Accessibility & reliability of legacy data with integration into new platforms

Prepping Audit & Legal compliance by "future-proofing" aging legacy data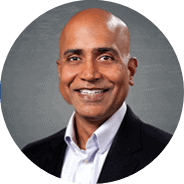 DEEPAK SOOD, CEO of AURITAS
Deepak has been a data archiving expert for almost 20 years. He's presented on numerous topics at various SAP events and regularly contributes his expertise to enterprise business leaders.​​
David Boeckle, CSO
David has been an industry thought leader in the SAP ecosystem for over 20 years, with experience spanning multiple industry verticals. David has presented at multiple SAP and ASUG events and continues to be a trusted advisor to business leaders across the globe.