SAP ABAP / Fiori / Workflow / SFPM / ODATA
Delivery – Gurugram/Hyderabad
9 -14 Years of Relevant Exp
Ideal candidate should have 9 to 14 years of relevant IT. with at least 10 Years of full SAP Project life-cycle Implementation experience with SAP-ABAP and minimum one should be a S/4 HANA implementation.
Expertise In depth knowledge and experience on the SAP-ABAP, Reports Interfaces, Forms, Conversions, Enhancements.
Expertise in at least 7 or more technologies like OOPS, Web dynpro, FPM, Workflow, CDS views, AMDP, OData services new or modification, Fiori, ADOBE forms, IDOC reports and BRF+
Expertise in enhancement framework, quality framework of S/4 HANA and RFQs.
Added advantage of SAP HANA procedures, calculation views.
Accountable that solution design meets platform architecture and deliverables meet requirements w.r.t. reliability, availability, manageability, performance, and security and compliance. Supports the project deliverables in timely provision of technical environments.
Good communication, interpersonal skills and should be independent thinkers, thought leaders, good presentation, and communication skills and great at solving problems.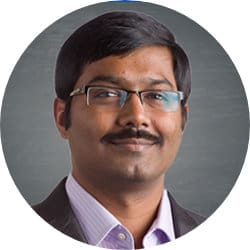 VIDYA RAJANAMPALLI
AVP, Delivery